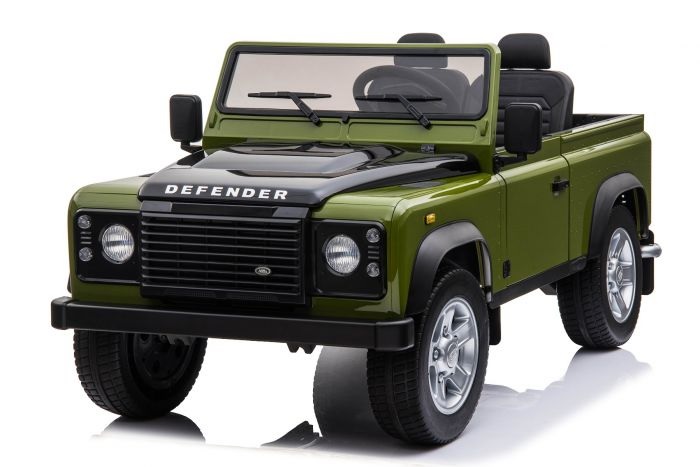 LAND ROVER
Land Rover to brytyjska marka, która powstała w 1948 roku i posiada bardzo interesującą historię.
Specjalizuje się w terenowych samochodach. Przez około 70 lat firma wyprodukowała miliony aut na całym świecie.
Dla fanów tej marki mamy kilka modeli Land Rover w naszej ofercie w pięknym zielonym, czarnym i czerwonym kolorze.
Jeżeli chcesz wzbogacić swoją wiedzę o historie i ciekawostki związane z tą firmą, to zapraszamy do czytania!
HISTORIA
Brytyjska marka Land Rover powstała w połowie XX wieku, zajmowała się produkcją samochodów terenowych dla wojska i cywilów. Początkowo należała do koncernu Rover, jednakże w 1975 roku zaczęła funkcjonować jako osobna marka.
W 1947 roku Maurice Wilks zainspirował się amerykańskim Jeepem, czego efektem był prototyp pierwszego samochodu. Pojazd ten miał rolniczy charakter.
W 1948 roku stworzono model produkcyjny, który stał się bardzo popularny wśród farmerów, przedsiębiorców w Wielkiej Brytanii, ale również na terenie Azji, a nawet Afryki! Auto było bardzo trwałe, proste w obsłudze i naprawie. Wszystko to zapewniło tak dużą popularność Land Roverów na całym świecie.
Model ten świetnie się sprzedawał, dopiero w 1970 roku zaczęły mu zagrażać japońskie modele, które były tańsze i nowocześniejsze. W tym samym roku powstał pierwszy Range Rover. Pod tą nazwą miały być produkowane bardziej luksusowe wydania samochodów.
W 1994 roku firmę przejęło niemieckie BMW, zaraz po tym powstało kolejne auto, które aspirowało do kategorii luksusowych SUV-ów.
W 2000 roku firma zostaje wykupiona przez amerykańską firmę – Ford. Dwa lata później ukazała się trzecia odsłona Range Rovera.
W 2008 roku Ford Motor Company sprzedaje brytyjską firmę indyjskiemu koncernowi Tata.
CIEKAWOSTKI
W 1976 roku z fabryki wyjechał milionowy egzemplarz samochodu marki Land Rover.
Papież Jan Paweł II podczas podróży do Wielkiej Brytanii w 1982 roku korzystał z dwóch opancerzonych Range Roverów.
Land Rover stworzył pierwszego monster trucka w historii motoryzacji.
Pierwsze auto firmy Land Rover miało kierownice pośrodku samochodu.
Projektant Range Rovera projektował silniki odrzutowe.
NASZA OFERTA
W naszej ofercie obecnie posiadamy jeden model marki Land Rover w przepięknym zielonym oraz czarnym i czerwonym kolorze. Land Rover Defender to Autko Elektryczne, które jest nowością na rynku! To niezawodny, oryginalnie licencjonowany produkt.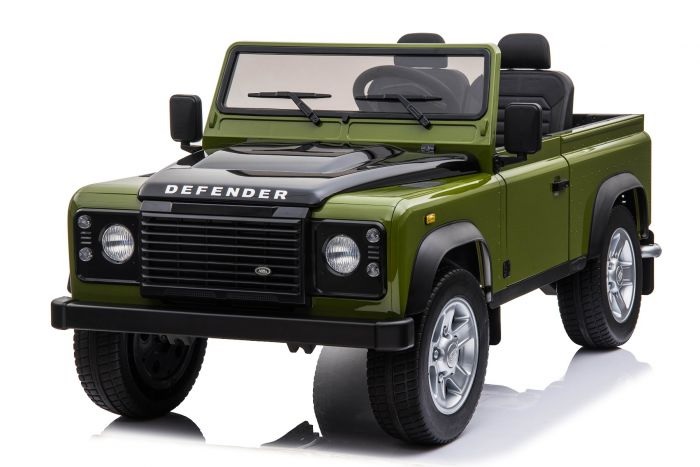 Elektryczne Autko posiada dwa, skórzane fotele, które zapewnią wysoki komfort jazdy. Dodatkowo dla wygody jazdy pojazd posiada koła EVA tamujące wstrząsy podczas jazdy.
Dla bezpieczeństwa wyposażono autko w pasy bezpieczeństwa, pilot 2.4 GHz. Nowy, ulepszony pilot zdalnego sterowania ma wbudowane przyciski umożliwiające kontrolowanie prędkości pojazdu i przycisk awaryjnego hamowania.
Jeżeli będziesz chciał zatrzymać autko, by uchronić swoje dziecko przed przypadkowym zdarzeniem, przycisk ten idealnie się sprawdzi do tego. Natychmiastowo zatrzymuje wszystkie funkcje pojazdu.
Każde autko posiada indywidualny pilot, wszystko po to by nie nastąpiło połączenie z innym Elektrycznym Autkiem.
Chcąc zbliżyć się jak najbardziej do oryginału, autko wyposażone jest w przednie i tylne światłą oraz podświetlany podkład.
By umilić jazdę naszemu dziecku, Elektryczne Autko posiada wbudowane radio ze wtyczką USB/TF do odtwarzania muzyki.
Autko nie wymaga dodatkowej konserwacji z wyjątkiem ładowania i sporadycznego czyszczenia.
POSUMOWANIE
Land Rover to marka z długoletnim doświadczeniem i różnymi modelami w swojej ofercie. W naszej ofercie również znajduje się Elektryczne Autko tej niezwykłej marki, ale również i pozostałych marek. Wszystko po to, by spełnić oczekiwania każdego klienta.
Sprzedajemy Elektryczne Autka w Całej Europie i na Świecie od wielu lat, i znamy się na tym perfekcyjnie. Oprócz samej sprzedaży oferujemy również doradztwo, sprzedaż części zapasowych (akumulatory, silnik ze skrzynią biegów, jednostki sterujące, ładowarki i wiele innych).
Jeżeli nie wiesz jakie autko wybrać dla Twojego dziecka, to warto zapoznać się z naszym artykułem "Jak wybrać najlepsze elektryczne autko dla dziecka?".
Na pewno będzie Ci łatwiej zdecydować się, które autko jest najlepsze. Jeśli nie, to warto zadzwonić do nas pod numer: +48 22 153 01 35 lub wypełnić formularz kontaktowy.