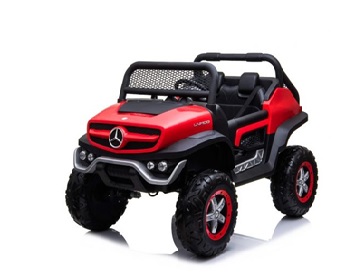 Elektryczne autko na akumulator to pojazd przeznaczony do jazdy przez naszych milusińskich. Elektryczne autka gwarantują wspaniałą zabawę na wiele godzin, która nigdy się nie znudzi Twojemu dziecku.
Zakup autka elektrycznego to doskonały pomysł na prezent. Niespodzianka będzie duża. A sam pojazd będzie działać przez wiele lat - wysoka jakość wykonania zapewni długowieczność autka.
To prezent idealny dla chłopczyka, jak i dziewczynki, gdyż w naszej ofercie mamy różne kolory samochodów: czarne, białe, niebieskie, a nawet różowe samochodziki!
Dziecko za kierownicą Elektrycznego Autka to genialny pomysł! Dlaczego? Dowiesz się tego z naszego artykułu!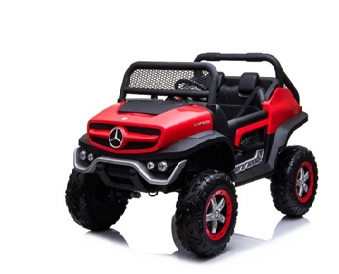 Zalety
Endorfiny, czyli hormony szczęścia oraz enfakliny są produkowane podczas zabawy, spełniają bardzo ważną funkcję w organizmie dziecka. Substancje te, odpowiadają za zmniejszenie napięcia nerwowego. Dziecko poczuje się szczęśliwsze i spokojniejsze.
Hormony te regulują gospodarkę ciała, temperaturę ciała, zmniejszają poziom stresu i wpływają na poziom zadowolenia. Dlatego ważne jest to, by były zawsze na jak najwyższym poziomie.
Eksploracja nowych terenów pozwoli na urozmaicenie tras zabawy i większą rozrywkę podczas poznawania wszelkich krajobrazów.
Elektryczne Autka wyposażone w koła EVA absorbują wszystkie wstrząsy. Dziecko nie poczuje żadnych niedogodności podczas jazdy. Nowe trasy mogą obudzić w dziecku małego podróżnika, rozwijając równocześnie jego wyobraźnie.
Jazda autkiem może rozbudzić w Twoim dziecku pierwiastek przyszłego, młodego kierowcy. Milusiński po kontakcie z elektrycznym autkiem, w starszym już wieku będzie lgnąć do normalnej kierownicy.
Zostanie uważnym kierowcą, a być może nawet kierowcą rajdowym. Prowadzenie pojazdu nie tylko będzie jego pasją, ale i może sposobem na zarobienie pieniędzy.
Cały świat stoi przed Twoim potomkiem otworem, trzeba tylko pomóc w znalezieniu tej pasji.
Mózg dziecka najlepiej przyswaja wiadomości podczas zabawy, uczy się unikać przeszkód, by nie zaliczyć niebezpiecznej kolizji z dużą doniczką czy psem leżącym na podwórzu.
Autko wyposażone jest w pasy bezpieczeństwa i pilot zdalnego sterowania, nasza firma dostarcza dziecku radość, ale i dba o jego zdrowie. Pilot zdalnego sterowania 2,4 GHz zapewnia pełną kontrolę nad autkiem dla rodzica, pilot posiada unikalny klucz do parowania z konkretnym autkiem.
Nowy pilot posiada przyciski do regulacji prędkości pojazdu, jak i przycisk hamulca awaryjnego, który umożliwia zatrzymanie autka w dowolnym momencie. Co więcej, pas bezpieczeństwa nie pozwoli na to, by Twoje młodsze dziecko wypadło z samochodzika.
Jazda Elektrycznym Autem może stanowić świetną okazję do nawiązywania i rozwoju kontaktów społecznych z rówieśnikami. Co jest fajniejsze niż widok jednego roześmianego dziecka? Widok dwójki roześmianych dzieci!
Niektóre z naszych autek posiadają podwójne, skórzane siedzenia z podwójnym pasem bezpieczeństwa, co pozwala na małe podróże dwójki pasażerów. Interakcje międzyludzkie kształtują charakter, dlatego ważne jest, by dziecko przebywało z swoimi rówieśnikami, co pozwoli na odnalezienie swojej roli społecznej.
W naszej ofercie znajduje się wiele różnych ciekawych pojazdów m.in. elektryczne quady, elektryczne motorki, autka riri, elektryczne motorki i elektryczne autka, które kształtują rozwój psychiczny i fizyczny naszego milusińskiego. W naszym asortymencie posiadamy autka marek:
Oprócz wielu marek i kolorów, posiadamy jeszcze wiele różnych modeli i typów autek elektrycznych. Posiadamy autka terenowe, miejskie, wyścigowe i sportowe.
Dzięki takiej różnorodności każdy znajdzie swój idealny pojazd.
Jeżeli wahasz się jeszcze nad zakupem naszego Autka lub masz pytania, zapraszamy do rozmowy z naszymi konsultantami!
Zespół elektryczneautka.pl