Samochód elektryczny Mercedes-Benz 540K 4x4 czarny, sterowanie lokalną kierownicą dla dorosłych, napęd 4x4, akumulator 12V14AH, koła EVA, tapicerowane siedzenie, 2,4 GHz DO, odtwarzacz MP3, USB, Bluetooth, licencja oryginalna
MERCEDES-BENZ 540K
Amortyzowane tylne osie
Akumulator 12V14AH
Napęd 4x4
Nowy pilot zdalnego sterowania 2,4 GHz
Odtwarzacz MP3 z połączeniem USB i Bluetooth
Otwierając drzwi
Nośność do 100kg!
Lokalne sterowanie kierownicą dla dorosłych
Fotel ze sztucznej skóry
Poprzednia cena
2 125 zł
Nasza cena
1 635 zł
SKU
MERCEDES_BENZ_540K_BLACK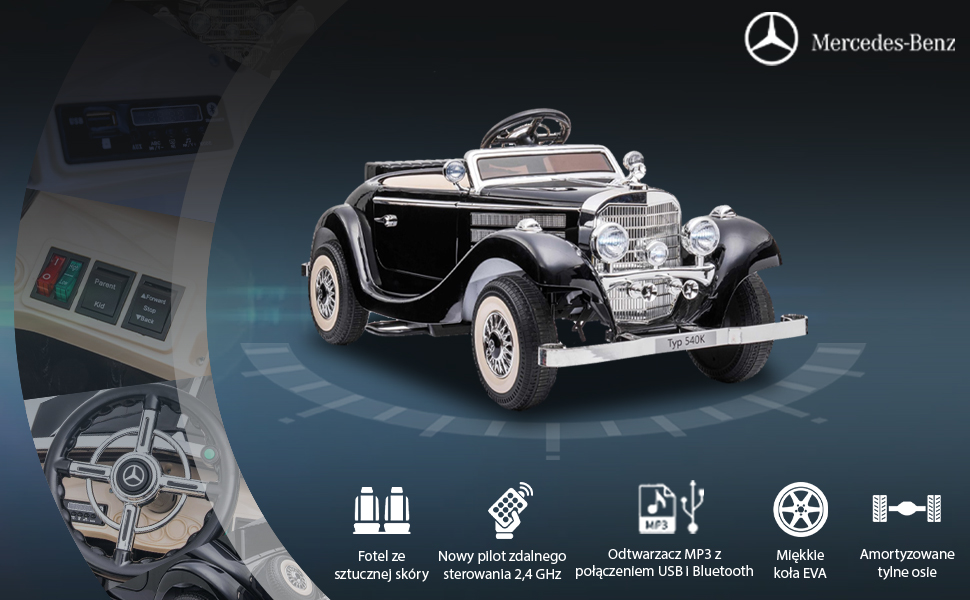 Weteran Mercedes - Benz 540K 4x4
NOWOŚĆ: Bezpośrednie sterowanie kierownicą dla dorosłych ze składanym tylnym siedzeniem.
Nośność do 100 KG
Samochód Mercedes 540K to wyjątkowy model Mercedesa. Posiada 4 silniki o mocy 35W, które zasilane są mocnym akumulatorem 12V / 14Ah, dzięki czemu auto sprawdzi się nawet w łagodnym terenie. Samochód ma dwa siedzenia, jedno w kabinie, a drugie z tyłu. Jako jedyny autko w naszej ofercie posiada ładowność do 100 kg, co oznacza, że można na nim zabrać dziecko z osobą dorosłą.

Miękkie koła EVA zapewniają cichą i wygodną jazdę, są odporne na pęknięcia i pęknięcia! Samochód wyposażony jest w mocne światła z przodu, podświetlany pokład. Radio zapewni rozrywkę dzięki odtwarzaczowi MP3, Bluetooth oraz slotowi na karty USB / SD.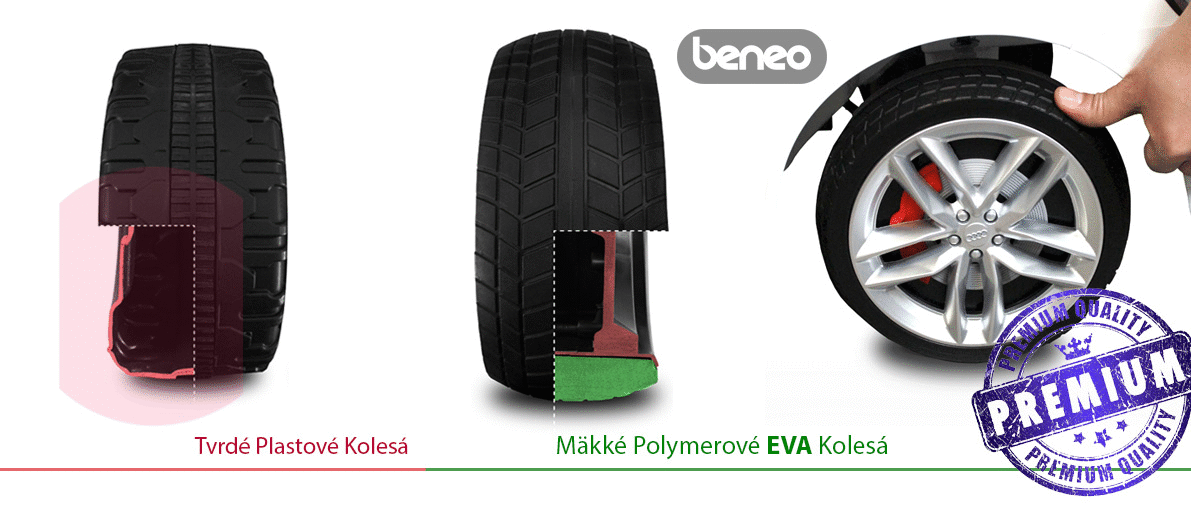 Funkcja łagodnego startu zapewnia, że nawet przy mocnym wciśnięciu pedału samochód zaczyna jechać pięknie, płynnie, bez szarpnięć. Wybór niższej prędkości oraz pilota z hamulcem bezpieczeństwa sprawiają, że jest to samochód odpowiedni również dla mniejszych dzieci.

Po włączeniu model naśladuje dźwięk rozruchu, zapalają się przednie i tylne światła oraz świeci się deska rozdzielcza. Autko oferuje efekty dźwiękowe takie jak: klakson, dźwięk uruchamiania silnika i jazdy, odtwarzacz z Bluetooth oraz wejście na kartę USB / SD oferuje wzgórze wspaniałych piosenek, które sprawią, że jazda autko będzie jeszcze przyjemniejsza. Głośność wszystkich efektów dźwiękowych jest regulowana bezpośrednio na odtwarzaczu.
Pilot z nową technologią 2,4 GHz umożliwia parowanie z konkretnym samochodem, podczas gdy sterowanie samochodem za pomocą pilota jest lepsze niż sterowanie za pomocą pedału / kierownicy, co oznacza, że rodzice mogą kontrolować samochód bez narażania bezpieczeństwa dzieci. . Pilot umożliwia również wybór prędkości i hamowanie awaryjne.
Dla jeszcze większego bezpieczeństwa auto wyposażone jest w regulowane pasy bezpieczeństwa oraz otwierane drzwi, dzięki którym wsiadanie jest łatwe i wygodne.
Napęd zapewniają cztery silniki o mocy 35W na wszystkie koła, dzięki czemu auto sprawdzi się nawet w łagodnym terenie. Samochód jest w pełni resorowany na przedniej i tylnej osi.
Specyfikacja techniczna:
Wymiary: 138 x 59 x 57 cm
Lokalne sterowanie kierownicą dla dorosłych
Fotel ze sztucznej skóry
Napęd 4x4
Odpowiedni dla jednej diety i jednego rodzica.
Płynny rozruch silników
Miękkie koła EVA
Pilot zdalnego sterowania 2,4 GHz
Hamulec awaryjny na pilocie
Możliwość ustawienia prędkości jazdy na pilocie
Amortyzowane tylne osie
Pasy bezpieczeństwa
Otwierając drzwi
Miejsce do przechowywania na ciele
Waga: 23 kg
Nośność: do 100 kg, sprawdzona nośność: 110 kg
Prędkość: 3 - 7 km / h
Napęd: 4 x silnik 12V 35W
Akumulator: 12V / 14Ah
Adapter: od 220V do 12V / 1000mA.
Ładowanie: od 8 do 12 godzin
Czas jazdy: do 2 godzin, w zależności od wagi i terenu
Kategoria wiekowa: od 3 do 8 lat
Zawartość Paczki:
elektryczny samochodzik
ładowarka
bateria do ponownego naładowania
pilot
instrukcja w języku słowackim
Więcej informacji

| | |
| --- | --- |
| Długość | 138,00 cm |
| Szerokość | 59,00 cm |
| Wymiary - wysokość (cm) | 57 |
| Wymiary - szerokość (cm) | 59 |
| Wymiary - długość (cm) | 138 |
| Wymiary opakowania - wysokość (cm) | 37 |
| Wymiary opakowania - szerokość (cm) | 59 |
| Wielkość skrzynki - długość (cm) | 130 |
| Max. (kg) | 100,00 Kg |
| Max. (kg) | 100 |
| Max. testowany (kg) | 110 |
| wykończenie Nadwozie | Plastikowy |
| Zdalne sterowanie | 2,4 GHz |
| Siedzenia | 2 |
| Dźwięk i muzyka | Odtwarzacz MP3 z Bluetooth, wejście USB |
| Typ koła | Miękkie koła EVA |
| Moc (W) | 4 x 35W |
| Moc (W) | 4 x 35W |
| Typ Baterii | 12V/14Ah |
| otwieranie drzwi | Tak |
| Zawieszenia | Tak |
| reflektory | Tak |
| płynny start | Tak |
| Instrukcja użytkowania | Tak |
| Voltmeter | Tak |
| Pudełko na prezent | Yes |