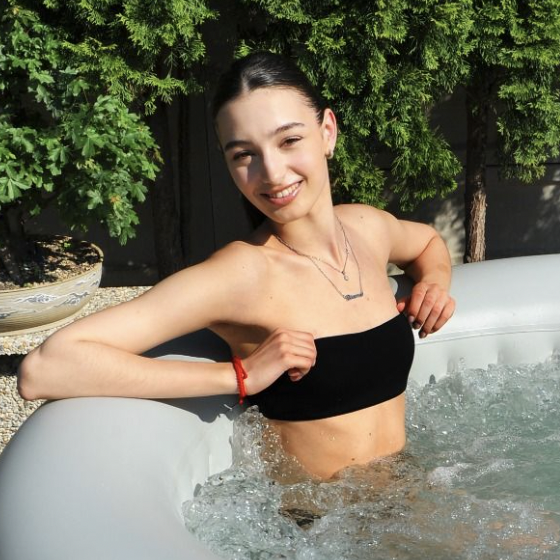 Ciesz się swoim podwórkiem lub ogrodem od wiosny do jesieni. Przenośne nadmuchiwane spa można ustawić niemal w dowolnym miejscu. Może zastąpić basen i jacuzzi. Możesz kupić u nas nadmuchiwane wanny SPA w bezkonkurencyjnych cenach i docenisz ich mobilność.
Jesienią balię można przenieść do garażu i tam np. wykorzystać lub stworzyć własne centrum wellness w ogrodzie zimowym. Wyobraźnia nie ma granic. Wanny z hydromasażem BeneoSpa mają nadmuchiwaną i jednocześnie bardzo wytrzymałą konstrukcję. Są łatwe w instalacji i szybkie do napompowania w ciągu kilku minut. Wystarczy napełnić wodę wężem ogrodowym.
Możesz także kupić niezbędne akcesoria do konserwacji i różne dodatkowe akcesoria, takie jak uchwyty na kubki, zagłówki i wiele innych. Wystarczy, że wybierzesz program i zrelaksujesz się w dmuchanym spa.
Efekt masażu bąbelkowego w spa w połączeniu z terapeutycznymi właściwościami gorącej wody to chwila, której nie chcesz się kończyć. To naprawdę fajna rzecz. Nasze spa to wspaniałe miejsce, niezależnie od tego, czy jesteś sam, czy z wizytą u znajomych, a także idealne miejsce na odpoczynek i relaks z rodziną. Gdy zaczniesz korzystać z uzdrowisk, przekonasz się, że najlepszym rezultatem ich stosowania jest doskonały relaks i doskonałe oczyszczenie głowy ze zbędnych myśli.
Pomyśl na przykład o czasie spędzonym na podwórku z rodziną – zbliżacie się do siebie. Lepiej się wyśpisz, poczujesz się lepiej i tak, okazało się, że jacuzzi ożywia także pozytywne myślenie, które czasem gubi się w zgiełku dzisiejszego stylu życia.
Whirlpool leczy ciało, umysł i ducha. Za każdym razem, gdy korzystasz z wanny z hydromasażem, następuje szybkie przejście od stresu do stanu spokojnej błogości. Wybierz z naszej szerokiej oferty spa.