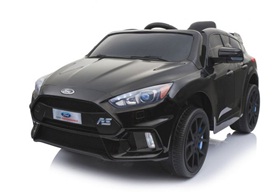 Firma Ford jest znana od wielu lat i szanowana przez wielu miłośników aut na całym świecie. Została założona na początku XX wieku przez Henry'ego Forda w Detroit w USA. Na temat samego Forda zostało napisane wiele książek.
Ten amerykański przedsiębiorca zrewolucjonizował masową produkcję aut. Jego pomysły, które zmniejszyły koszta i czas produkcji aut, pozwoliły ludziom ze średniej klasy a nawet zwykłym robotnikom kupić i korzystać z samochodów firmy Ford.

Podsumowanie
Absolutnie zawsze z chęcią w wyborze auta elektrycznego na akumulator dla Twojego dziecka. Jeżeli masz pytania, skontaktuj się z nami, a my odpowiemy na nie z przyjemnością. Autka elektryczne to świetny prezent dla dziecka. Sprawdź naszą ofertę i wybierz najlepszy produkt dla siebie i swojej pociechy.
O Henry'm Fordzie
Firma Ford została założona przez w 1903 roku przez Henry'ego Forda w amerykańskim mieście Detroit. Henry Ford pochodził z wielodzietnej bogatej rodziny. Od wczesny lat wykazywał wysokie zainteresowanie mechaniką, a w wieku 15 lat skonstruował pierwszy silnik. Każdy z nas musi przyznać, że tylko wybitny umysł mógł zrobić coś takiego.
Aby zdobyć nową wiedzę, Ford zatrudniał się u różnych przedsiębiorców. Co jest bardzo ciekawe, pracował nawet w warsztatach zegarmistrzów. Po zbudowaniu pierwszego samochodu postanowił porzucić pracę i rozwinąć własną działalność.
Połączenie wiedzy, doświadczenia, działań marketingowych, wysokiej jakości i niskiej ceny samochodów pozwoliło zdobyć firmie Ford światową popularność.
Warto wspomnieć o tym, że pomimo tego, że firma była powszechnie znana i generowała milionowe dochody, Ford zawsze osobiście dbał o to, żeby każdy wyprodukowany samochód w jego fabrykach był wykonany staranie i mógł zadowolić każdego klienta. Dlatego sprawdzał każde auto, które było gotowe do sprzedaży.
Dlaczego Firma Ford Odniosła Tak Duży Sukces?
Kluczem do sukcesu było zastosowanie taśmy produkcyjnej. Wcześniej grupy kilku pracowników składały pojazdy od samego początku do końca (od najmniejszych śrubek do samochodu, który można sprzedać).
W przypadku taśmy produkcyjnej wiele osób uczestniczy w składaniu auta, ale różnica polega na tym, że każdy zajmuję się konkretną częścią samochodu. W wyniku tego, każdy jest specjalistą od danej pracy, wykonują ją znacznie szybciej i dokładniej.
Taśma produkcyjną pozwoliła na znaczne obniżenie cen samochodów. Dzięki temu więcej osób mogło kupować auta. Wielką popularnością autka firmy Ford cieszyły się wśród robotników amerykańskich.
Pomysł zastosowania taśmy produkcyjnej został wykorzystany przez wiele innych firm z wielkim sukcesem, co odmieniło przemysł na całym świecie.
Licencjonowane Autka Elektryczne Dla Dzieci
W naszej ofercie są również autka elektryczne dla dzieci firmy FORD. Wszystkie mają oryginalną licencję.
Ford Focus RS
Ford Focus RS jest odwzorowaniem oryginalnego autka Ford Focus RS. W ofercie jest w dwóch kolorach:
- czarny
- biały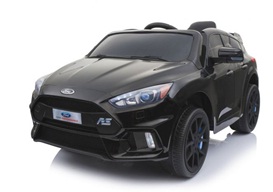 Autka tego modelu są wyposażone w pilot zdalnego sterowania, którym rodzic może zdalnie sterować samochodem w razie potrzeby np. gdy dziecko jeszcze jest małe i nie wie jak poprawnie kierować autkiem. Dla bezpieczeństwa dziecka na pilocie zdalnego sterowania jest przycisk hamowania.
Autko ma otwierane drzwi dla wygody dziecka. Dla cichej jazdy zamontowane są koła EVA. Posiada również przepiękne oświetlenie oraz kluczyk z oryginalnym logo firmy. Autko oczywiście jest lakierowane.
Dla fanów muzyki autko posiada wejście USB, czytnik kart SD, radio, bluetooth i MP3.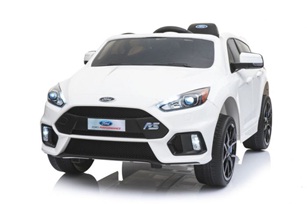 Ford Ranger Wildtrak Luxury
Również autko Ford Ranger Wiltrak Luxury jest licencjonowane przez firmę FORD. W ofercie mamy ten model w kolorach:
- czarny,
- czerwony.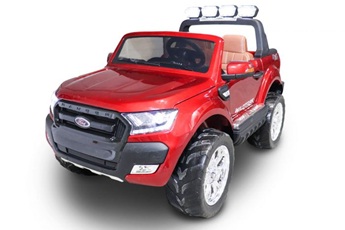 Oprócz podstawowych funkcji takich jak pilot zdalnego sterowania, światła i dźwięk, lakier czy koła EVA. Autko to posiada tapicerowane siedzenie dla dwóch dzieci. Dodatkowo wyposażone jest w ekran LCD, na którym można oglądać zdjęcia i filmy.
Nie musisz obawiać się, czy autka nadaję się na trudne i wymagające tereny. Autko posiada napęd na cztery koła! A oprócz otwieranych drzwi posiada również otwieraną maskę auta. To prawdziwe autko terenowe, które sprawi radość wszystkim dzieciom.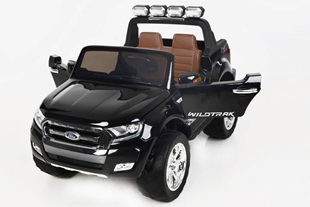 Ford Ranger Monster Truck
Kolejnym autkiem terenowym jest Ford Ranger Monser Truck z oryginalną licencją, który mamy w trzech kolorach:
- czarny,
- biały,
- czerwony.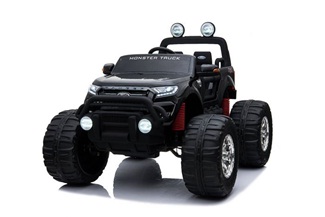 Autko podobnie jak poprzedni model poradzi sobie w każdych warunkach, ponieważ posiada napęd na cztery ogromne koła. Dodatkowo posiada oświetlenie LED. Jest to jeden z nowszych modeli firmy Ford. W typowych miejscach autko posiada logo Ford co nadaję mu identyczny wygląd jak odpowiednik realnego auta.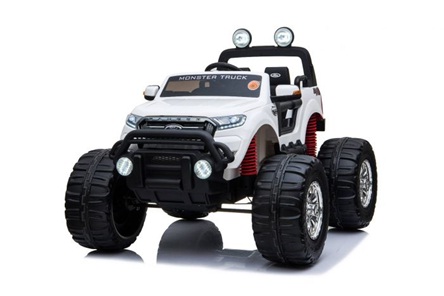 Autko wykonane jest z najwyższej jakości materiałów. Gwarantujemy, że przy niewielkim wysiłku będzie służyć Ci na długie lata.